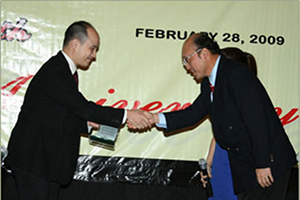 TSUKIDEN Chairman, Mr. Jiro Hanzawa said: "The 20th Anniversary celebration is a big leap for TSUKIDEN." Looking back 20 years ago, there were 16 engineers who were first hired by TSUKIDEN and were sent to Japan for training. As the years passed, TSUKIDEN has continuously acquired more projects, more clients and has increased manpower.
The event became memorable to all the attendees as they witnessed the entertaining group song & dance presentations of different TSUKIDEN batches and extravagant raffle prizes were also imparted.
It was truly an evening of glamour and an inspiring experience to be part of the TSUKIDEN's VISION, that is – to be the "Best Global Business Partner of our Clients" and to be the "Best Global Business Partner of the Associates".