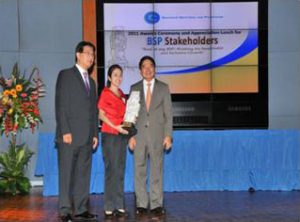 On July 6, 2011, the Bangko Sentral ng Pilipinas (BSP; Central Bank of the Philippines) awarded Tsukiden Global Solutions Inc. (TGSI) as the Best Service Provider Respondent.
The recognition ceremony was held at the Assembly Hall of BSP Office in Manila.
TGSI was represented by its Executive Vice President- Ms. Michel Anson, Finance Manager- Ms. Elma Janer & Gen. Manager- Mr. Masanori Warikai.
The award was handed over by BSP Chairman of the Board of Judges & Monetary Board Member, Mr. Peter Favila and BSP Governor Hon. Amado Tetangco to Ms. Anson.
The award is given to honor outstanding companies, organizations & stakeholders who support the BSP advocacy campaign on safeguarding price stability & promotion of financial stability in the Philippines.