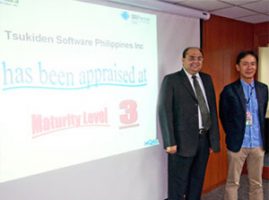 The Carnegie-Mellon University Software Engineering Institute officially recognized the TSUKIDEN as a Capability Maturity Model Integration (CMMI) Level 3 v1.2 last July 14, 2010. TSUKIDEN is the first software company in the Philippines to have achieved level 3 in CMMI version 1.2.
TSUKIDEN was recommended for CMMI Level 3 v1.2 by its Lead Appraiser, Dr. Vinit Maheshwari, Director of Maverick Quality Advisory Services Private Limited and CMMI-certified High Maturity Lead Appraiser last June 18, 2010. After 26 days, the recommendation was accepted and approved for public use by Carnegie-Mellon SEI.
The Capability Maturity Model Integration, or CMMI for short, is an internationally-recognized process improvement approach that helps guide organizations to integrate traditionally separate organizational functions, set process improvement goals and priorities, provide guidance for quality processes, and provide a point of reference for appraising current processes.