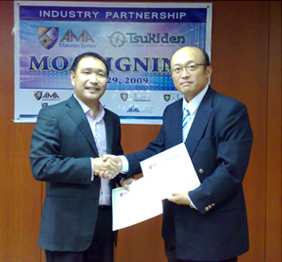 TSUKIDEN GLOBAL SOLUTIONS, INC. and AMA Computer University, regarded as the pioneer and largest IT University in Asia, have forged partnership last June 29, 2009. Their collaboration transpired so that both institutions can provide more employment opportunities to IT professionals.
TGSI agreed to support AMA in the areas of Student Internship Program that would provide real world IT project experience to their students. The partnership also includes curriculum review and training, job posting and job placement. As Mr. Jiro Hanzawa, TGSI Chairman cited to AMA CEO & President ,
Dr. Amable Miguel Aguiluz IX – We are glad to be in partnership with an academic institution like AMA in line with our business expansion and we look forward to share our knowledge in the field of IT to your educators and students.
Recently, TGSI donated oscilloscopes, logic analyzers and current probe amplifier for AMA Engineering Laboratory use. With TSUKIDEN GLOBAL SOLUTIONS, INC. at the forefront of custom software, firmware and hardware development and with its expertise on Telecommunications Applications Development, Quality Assurance Testing Services, Business Applications and Embedded Systems Development, AMA Computer University students will have the requisite exposure to Japanese technology, culture and discipline.