August 11, 2020
Having proficiency in different IT services, Tsukiden Global Solutions Inc. has always been an innovator in their arena. Due to their earnest approach and perfection, the firm has paved its way as the top software development company at GoodFirms.
Headnote About the Company
Founded in 1989, Tsukiden Global Solutions is located in the Philippines and Japan. Since the establishment, they have been delivering outstanding solutions to global clients in different niches. TGSI has developed varied projects in Japan, Malaysia, Hong Kong, Philippines, Singapore, United Kingdom, Taiwan, and the USA. With technical expertise and talented manpower, the team has served different companies that fit their clients' and the market needs.
TGSI is one of the leading companies, a pioneer in IT outsourcing that offers clients with cost-effective solutions. The team is result-driven and motivated and experienced to even work with a multilingual or multi-cultured team. With their steadfast approach, the TGSI team comprehends their clients' need to offer befitting solutions. The team believes in three things- vision, mission, and values to embrace technology and provide quality services within a stipulated period. They hold immense experience and knowledge in delivering astounding software solutions.
GoodFirms Methodology
GoodFirms is an established B2B online platform that brings software development companies and service seekers on the same platform. Numerous companies aspire to get ranked in different categories at GoodFirms, but those who get evaluated on parameters like Quality. Reliability and Ability get listed and ranked on the website. These parameters help seekers to hire a reliable partner for their business needs.
Similarly, GoodFirms evaluated TGSI Global Solutions on the same parameters and found them delivering unparalleled solutions in software development, mobile app development, and QA testing. Details of those services discussed below:
Delivering Pioneered Software Development Solutions
With a strong industrial experience for 30 years, TGSI has been providing trusted and reliable software solutions to its clients across industries and countries. The team is highly motivated and self-reliant in using the latest tools and technologies so as to deliver more stable software products. The TGSI team infuses vision and creativity to their technical solutions and communicate clearly with clients.
Jasper Roy Rebong gave TGSI a 5-star rating and expressed his gratitude. The review can be read below.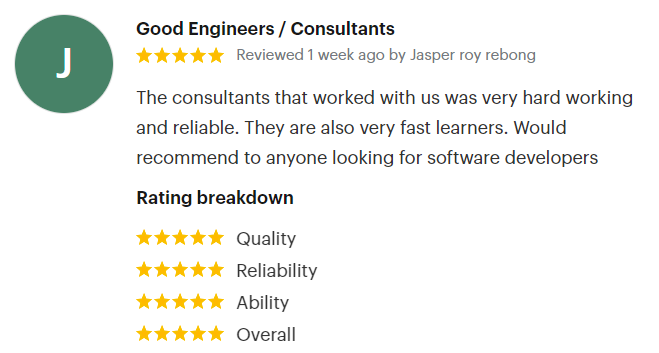 Moreover, the team takes their clients' success as their own and works towards goal improvement by building trustworthy and long term relationships with them. Always working hard to get an in-depth understanding of their clients' business, the tech-savvy team is committed to delivering excellence with performance. Therefore, for delivering a holistic package, the company holds a position as the top software development company in the Philippines at GoodFirms.
App Development Solutions Tailored to Customer's need
The TGSI team holds expertise in delivering mobile app development for Android, iOS, and Hybrid by utilizing trendy tools, frameworks, and methodologies. Developing projects such as human-machine interfaces for mobile phones and using real-time expertise, the team has become one of today's leading app development companies.
In the current changing mobile landscapes, the TGSI team, full of vision and creativity develops several implementations of voice over internet protocol (VOIP) for the Android platform. The team goes beyond perfection to develop and design applications that can reflect a brand's message and develop a visually appealing app. Thus, working with diligence and creativity, TGSI will soon rank as one of the top app development companies in Japan at GoodFirms.
Assuring Budgeted Quality Services
Quality assurance ensures the least or zero discrepancies in the final software deliverable to clients. The passionate and compliant team strategically allocate their expertise and perform testing with proper planning. Moreover, the TGSI team uses standard tools and techniques to offer static and dynamic inspection testing services with assured results. Besides this, the team goes beyond their limits to pull off their clients' testing requirements and develop quality software.
Owing to hard work and diligence, the TGSI team has set a high standard of work and service delivery. Every step is done with concise planning and considering the clients' business needs. This way, they can fulfill their clients' expectations with error-free results. The team's creativity and innovation would soon endow them amongst the top QA testing companies at GoodFirms.
About GoodFirms
Washington, D.C. based GoodFirms is an innovative B2B Research and Reviews Company that extensively combs the market to find software developement, app development, and QA testing Services firms that offer the best services to its customers. GoodFirms' extensive research processes help rank the companies, boost their online reputation and helps service seekers pick the right technology partner that meets their business needs.
About the Author
Anna Stark is a staff writer with GoodFirms – a Washington D.C. based B2B Research Company that bridges the gap between service seekers and service providers. Anna's current role includes gauging companies' performances and their key attributes and putting them into words. She firmly believes in the magic of words and is always on the lookout for new strategies and ideas that companies have gladly embraced, and then helps them shine a light on those to make their identities shine brighter.