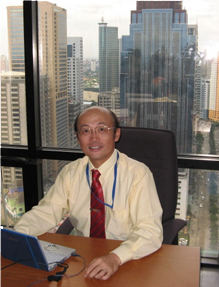 A PERFECT BLEND OF TWO CULTURES ENGINEERS SUCCESS
Tsukiden Software Philippines Inc., one of the pioneers of information technology outsourcing in the country, has been setting the pace for software development since it was established more than 20 years ago.
In those years, the Philippines has become a preferred destination of foreign companies for their offshore business process outsourcing (BPO) activities, with the sector currently growing an average of 46 percent annually since 2006.
Long before the country's BPO boom, TSPI was at the forefront of custom software, firmware and hardware development, catering to high-profile clients in Japan.
TSPI's expertise in telecommunications, business applications, embedded system development and quality assurance testing service (its fastest growing business unit) has made the company highly recognizable in the IT industry.
"Apart from the Philippines being a strategic location that could easily reach new markets worldwide, it is also the Filipino associates' flexibility and commitment to work that also makes our company progress considering our humble beginnings," says TSPI President Jiro Hanzawa.
According to Hanzawa, TSPI continuously develops the skills of its engineers by setting up annual training programs for its associates, apprenticeships for IT students and partnerships with various IT schools. It also conducts nationwide recruitment events, which generate much-needed employment.
In an industry as fast paced and vast, TSPI has established a commendable reputation in the IT field.
With the Filipino's innate passion for innovation combined with the disciplined nature of the Japanese, TSPI perfectly illustrates the perfect blend of cultures engineering their own brand of success.
Hanzawa also established a new company – Tsukiden Global Solutions Inc. – that will continue the legacy of TSPI.