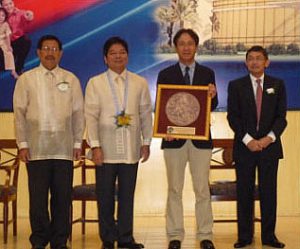 The Philippine Government Agency, Social Security System (SSS), awarded TSUKIDEN as "TOP EMPLOYER for National Capital Region (North Area) – Medium Sized Category" last September 1, 2009. The Awarding Ceremony was held at Ramon Magsaysay Hall, SSS main office in Quezon City.
TSUKIDEN was represented by its President – Mr. Koji Masuda, Executive Vice President- Ms. Michel Anson. The award was handed over by SSS President & CEO Hon. Romulo L. Neri, SSC Chairman Hon. Thelmo Y. Cunanan and Bangko Sentral ng Pilipinas Governor Hon. Amando M. Tetangco, Jr. to Mr. Koji Masuda.
In alignment with TSUKIDEN Employee Care Program, the award shows that TSUKIDEN is achieving its advocacy to be "the BEST PARTNER of its Associates" by consistently taking care of its associates and providing a conducive and nurturing work environment.
This can be attributed to its Associates continuous cooperation and TSUKIDEN top management's support.
Kudos to TSUKIDEN Associates and Management for the "BEST EMPLOYER AWARD"